Propak Energy Services (PES) is Propak's integrated field service and replacement parts division.
PES provides domestic and international clients with startup and commissioning services, product support, and warranty administration for process plants, gas compression and power generation systems.
PES also provides after sale parts and field service through a network of branch offices across Western Canada and the Rocky Mountain States.
PES stocks new and remanufactured cylinders for Ariel, Dresser-Rand and Gemini compressors.
Our inventory can be viewed here.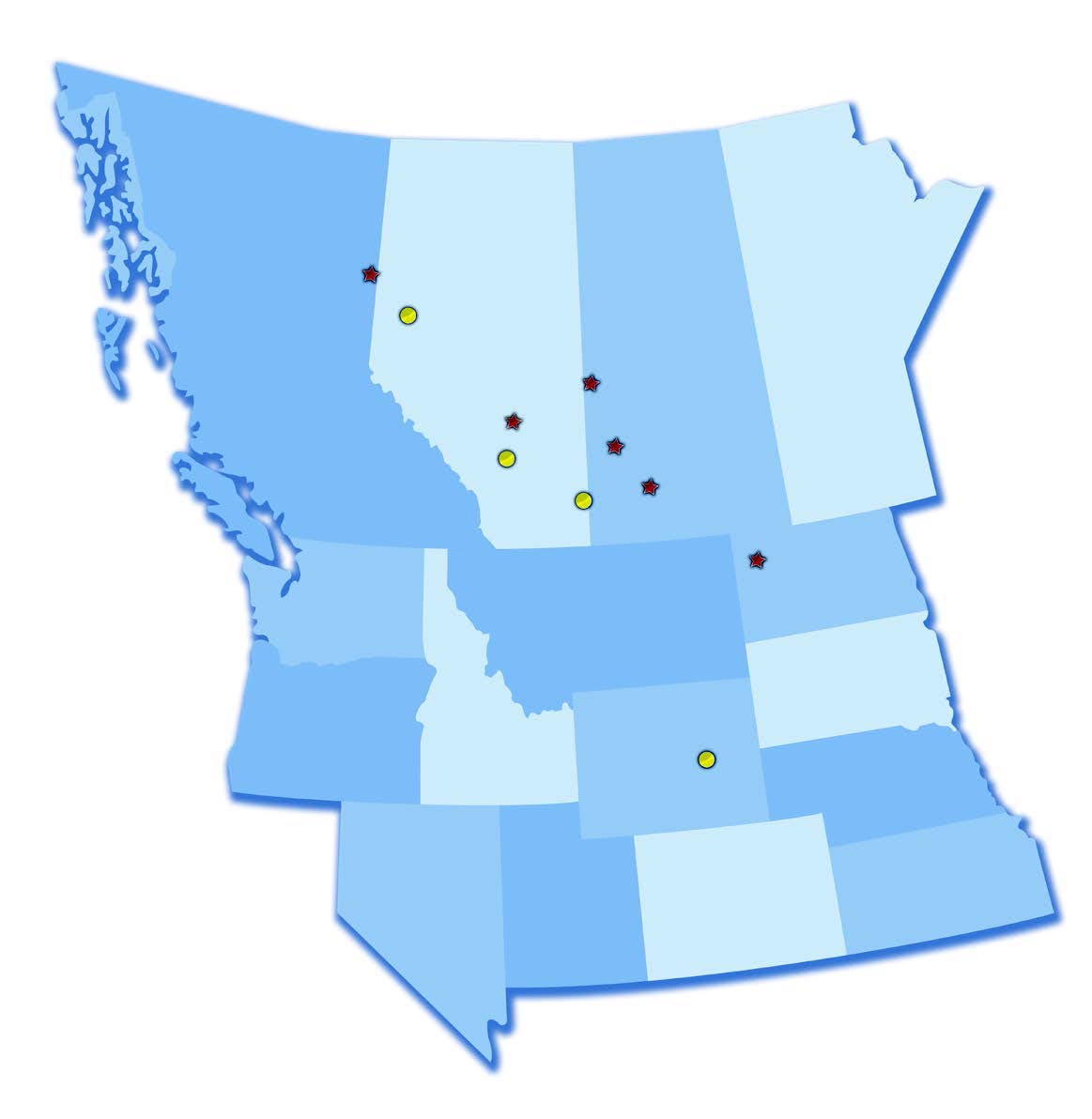 Branch Offices
Airdrie, AB

403-912-7000

Grande Prairie, AB

780-402-3334

Medicine Hat, AB

403-528-2220

Casper, WY

307-472-1208
Lloydminister, AB

780-875-8828

Red Deer, AB

403-912-7000

Fort St. John, BC

250-261-1725

Kindersley, SK

403-528-2220

Swift Current, SK

306-773-6116

Williston, ND

701-774-6655
24/7 OEM Parts Support
Propak Energy Services has an extensive inventory of OEM replacement parts and exchange components for engines and compressors available through a network of branch offices across Western Canada and The Rocky Mountain States.
---
Product Lines
ENGINES

Waukesha
Caterpillar
White
Ajax

ROTORY SCREWS

Mycom
Sullair
Howden
Frick

RECIPROCATING COMPRESSORS

Ariel
Dresser Rand
Gemini
Superior
Worthington
Accessory Lines
Bosch
Champion
Denso
Altronic
Impco
Stitt
TDI Air/Gas Starters
IR Air/Gas Starters
Kenco Level Controllers
Screw Compressor Oils
Exchange Components
Turbos
Water Pumps
Oil Pumps
Engine Crankshafts
Compressor Crankshafts
Fisher Regulators
Connecting Rods
Engine Cylinder Heads
Fuel Admission Valves
Waukesha & Caterpillar Engines
Screw Compressors
VHP Rocker Arm Assemblies S2 & S4
Cylinder Head Rebuilding
QUALITY YOU CAN AFFORD / RELIABILITY YOU CAN DEPEND ON
Our modern cylinder head shop provides remanufactured heads for Waukesha, Caterpillar and White Superior engines. Cylinder heads are remanufactured by factory trained technicians using OEM cores with new valves, guides and seats and are restored to OEM standards and include a 12 month limited parts and labour warranty.
Cores are hydro jet washed and glass bead blasted to remove debris
QC documentation is centrally controlled
Cylinder heads are surface ground, valve seats are machined to ensure concentricity
Finished heads are pressure tested to ensure there are no leaks
Propak Exchange Engines
Remanufactured engines Improve Runtime and Lower Repair Costs
PES maintains a complete range of Waukesha and Caterpillar natural gas remanufactured engines. Engines are rebuilt by factory trained certified technicians to OEM specifications and include select upgrade kits designed to improve performance and service life. Remanufactured engines are a cost-effective alternative to field overhauls and are supplied with a 12-month limited parts and labour warranty
OEM parts are used exclusively.
Testing and quality control records are centrally maintained.
Crankshafts and crankcases are inspected, cleaned, magnafluxed and returned back to OEM spec.
Engines are rebuild in a clean dust free environment.
---
Remanufactured Waukesha Engines
F18GL
H24GL
L5794GSI
L5794LT
L7042GL
L7042GSI
L7044GSI
L7044GSI x-cooled
Remanufactured Caterpillar Engines
G3304NA
G3306NA
G3306TA
G3512TALE
G3516TALE
Process Field Services
Process Field Service provides start-up and troubleshooting support for oil and gas processing facilities. Experienced technicians, supported by in-house engineering are on call 24/7 to manage and perform plant modifications, upgrades and turnarounds.
Experienced journeymen welders, millwrights and pipe fitters
Qualified refrigeration compressor technicians
Fully equipped service vehicles with special tooling
OEM parts
---
Process Plant Services
Refrigeration plant pre-commissioning and start up
Dehydration plant pre-commissioning and start up
Process plant troubleshooting and optimization services
Process plant de-commissioning and preservation services
Burner management systems
Exchanger retubing, testing and alterations
Amine plant pre-commissioning and start-up
Fabrication Services
Gas to gas exchanger replacement and repairs
New or repaired air cooler bundles and headers
Louver repair or replacement
New or repaired process vessels and modifications
Piping and spooling repairs and modifications
Direct fired heaters
Tower inspections and repairs
Tubing and pipe coils
Refrigeration Compressor Services
Scheduled preventative maintenance programs
Refrigeration compressor overhauls
Exchange refrigeration compressors
OEM parts for refrigeration compressors
Compression and Power Generation
Our factory trained and certified field service team's provide product and warranty support for gas engines, compressors and power generation systems.
Waukesha upgrade kits allow customers to cost effectively upgrade older VGF & VHP engines to improve performance, extend service intervals, and improve emissions.
Ariel CPU valve upgrades allow customers to take advantage of the latest compression technology designed to improve compression efficiency and valve service life.
---
Service Offerings
Waukesha engine conversions Series 2 to Series 4 or Series 5.
In-shop or on site repairs and overhauls.
Remanufactured natural gas engines.
Remanufactured reciprocating and screw compressors.
Remanufactured engine components e.g.: cylinder heads, water pumps, oil pumps, turbos, connecting rods, camshafts and crankshafts.
Failure and component life cycle analysis.
Vibration measurement, pulsation analysis and recommendations.
Engine emission compliance upgrades.
PES Employs and provides
Cat 3300, 3400, 3500 & 3600 qualified service technicians
Waukesha VGF & VHP qualified service technicians
Ariel qualified service technicians
Fully equipped service vehicles with air and special tooling
In-house engineering and factory technical support
Large inventory of OEM parts
After-Market Programming Support
Propak's in-house control systems specialists provide clients with support that includes programming, software and panel hardware upgrades for a variety of control system types and manufacturers.
Programming
Software and panel hardware upgrades
Waukesha & Caterpillar engine control systems
Emission compliance and equipment upgrades
Maintenance Contracts
Propak Energy Services offers a full range of maintenance contracts designed to improve runtime and reduce equipment life cycle costs.
Extend equipment overhaul cycles lowering maintenance costs
Improves equipment run time and online availability
Provides predictable fixed monthly maintenance costs
Services are performed by factory trained technicians
Access to factory technical resources can help optimize equipment life cycles
Product improvement upgrades can be included
Maintenance contracts are transferable
Premium Compressor Oils
Propak Energy Services has developed a line of semi-synthetic and synthetic compressor oils for rotary screw, rotary vane and reciprocating compressor applications available in 205L / 55 gallon barrels or 20L / 5 gallon pails.
Propak 5-100 (viscosity of 107 @40 C) is a chemically inert semi-synthetic compressor oil designed to improve lubricity and resist corrosion
Propak 5-150 (viscosity of 147 @40 C) is a chemically inert semi-synthetic compressor oil designed to improve lubricity and resist corrosion
Propak 22 (viscosity of 150 @40 C) is a specially blended synthetic compressor oil designed for refrigeration and/or hydrocarbon service where it is critical that oil carry over not affect the thermal efficiency of the process